Birthday wishes Quotes Images for Grandmother- Grandmother is a very important person in lots of people's lives, she is always been there for her grandchildren, and everyone else that is in the family. She is a friend also. One can call her the rock of the family as she keeps everybody all up in their times of hardships and also makes all laugh hard on their amazing day. So wishing her on her important day i.e. on her birthday is a must.
Grandmother always loves her children's and family so it's your time to show her how much you care about her and loves her. So wish her with our lovely Birthday wishes Quotes Images for Grandmother and make her happy.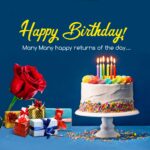 Also Read: Birthday wishes quotes for teacher 
Grandma, you have the most beautiful eyes in the world. Your personality says all about your journey of life. Your big heart is the most precious item I've ever found in my life. I wish I could be like you. Happy birthday!
I know grandma that your recipe cannot be created because I might find all the ingredients you put in any supermarket, but the amount of love you put in it is obviously irreplaceable. Enjoy your special day, grandma.
When I look at your face, I find what actually the true happiness is. I've never seen your gloomy face because you've all the blessings of God upon you. Wonderful birthday! Grandma
Grandma, I'm so thankful to the God, because he blessed me with the blessings of a wonderful granny like you. Love you and wishing you a happy birthday.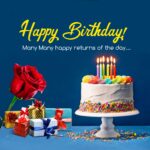 When some people think "Grandma" they think of little gray-haired ladies in rocking chairs, but I think of wonderful, dynamic, loving YOU!
Millions of stars are not equal give brightness which you bring in my life Granny. May your birthday be full of happiness, just like you. Happy birthday Grand Mother!
I wish I could give you a whole garden of red roses, each one indicating my love for you. Happy Birthday, Grandma!
Everyone attributes my success to my mother. But I attribute my success to my grandmother because, without her, even my mother wouldn't have been such an amazing woman. Happy birthday, grandmom.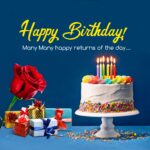 Also Read: Birthday Wishes Quotes for Friends
Thanks for being the one who always feeds me with lots of love. Best wishes to my Grandmother.
I wish to be able to offer you all you need, as you offered me all I needed! Many warm hugs to the greatest woman I know! Happy birthday!
I'll never forget all the encouragements you've given me as a child in my failures. Thank you for all you have offered to me. I love you, Grandma
My sweet Grandma, you were always the one who had plenty of time to listen, to play, to talk, to laugh. You always had plenty of time for me!
Above quotes and images are best for wishing your grandmother on her birthday, she will understand how much you care and love her now and in future also you will care about her. So don't miss a chance to wish her using above Birthday wishes Quotes Images for Grandmother.