Funny Birthday Wishes: Being able to laugh about situations, even the fact that one is getting older, is a good thing! It is the sign of someone who knows how to handle different occurrences and has a great sense of humor! Of course, teasing should always be handled with care, because you wouldn't like to hurt anyone's feelings, let alone on their birthday. When your friends, family, spouse, boyfriend, girlfriend or other important people in your life have a birthday, we usually send them a birthday message greeting them and wishing them well.
If you aren't quite sure, then finding a card which will make them smile is still possible with the right message and birthday wishes. A simple call at midnight to wish "Happy Birthday" or a bouquet of flowers with a card and chocolates does the trick. Friends also smile if the humor is directed toward yourself. For example you can joke "My back goes out more often than I do."
15 Funny Birthday Wishes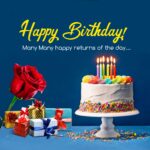 Also Read: Happy Birthday Cake
1) Friend on this day, many, many, years ago, you were born! I guess that's something! Happy Birthday!
2) Remember all the times you said you wanted to lose weight? Yeah….tough luck, prepare to stuff your face with birthday cake! Happy birthday my friend!
3) One of the best pieces of advice in life is "you have to appreciate the little things". That said, I know that spotting little things is easier said than done at your age! Happy Birthday!
4) Happy birthday! You know you're getting old when you never walk past a bathroom without saying "well, I'm here already – I may as well pee.
5) On your Birthday, I wish you get stuffs like, fun, romance, love, peace, and friendship. These are all the things which are free of cost.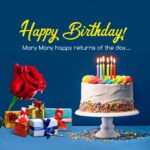 6) Friend, before there were maps, people used the stars to guide them. You would know! Happy Birthday!
7) Happy Birthday to my wild and crazy friend. Thanks for keeping all of the adults busy with your antics when we were kids so that I never was punished!
8) I hope you have low expectations for your meal and cake this year, I hear dad's having a go at being the chef. Happy Birthday!
9) Congratulations on finally reaching the snapdragon phase of your life: one part of you has snapped, and the other part of you is dragging. Happy birthday!
10) It's your day; celebrate it in your way. Take out time and enjoy the day. Don't waste it away. Happy Birthday!!
Funny Happy Birthday Wishes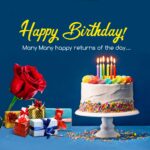 11) Remembering you today, friend, is easy! The sheer number of your years is astounding! Happy Birthday!
12) You are like a sister to me, and I am sure you feel the same way. If you let me borrow all the stuff you get for your birthday, I promise not to tell mom what you did at the party!
13) The emergency department is on speed dial just in case you have an unexpected asthma attack blowing the candles.
14) Don't be bummed about your birthday! You know what they say: it's better to be a year older than to be one month late. Happy birthday!
15) On your birthday, I want to assure you that we still look as young as those 105 pound supermodels. Even if we don't, I'm sure we can kick their skinny asses. All my love, your 29 year old bestie.
Related Searches: Funny birthday wishes, cute birthday wishes, happy birthday funny, funny happy birthday, funny birthday cards, funny happy birthday cards, funny happy birthday wishes.